Opening times

Monday - closed
Tuesday: 10am - 7pm
Wednesday: 10am - 6pm
Thursday: 10am - 7pm**
Friday: 10am - 6pm
Saturday: 10am - 1pm**
Sunday: closed

** Study Room open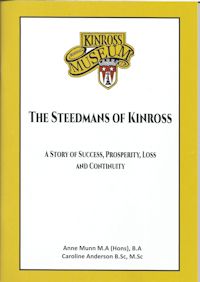 Volunteers answer research queries, develop the museum's collections and resources and promote the work of the Museum through social media and articles in local community publications.

Publications on sale in the museum include:
'The Steedmans of Kinross' by Anne Munn, M.A. (HONS) B.A. and Caroline Anderson, B.Sc, M.Sc. Price £5

The Place-Names of Kinross-shire by Simon Taylor (Shaun Tyas 2017), price £35

Carlin Maggie and other stories from the Bishopshire retold by David Munro (2017), price £3.

Amongst other publications available are:
Loch Leven, 'The great meeting place and sanctuary'', a guide to the Loch Leven Heritage Trail by David Munro (2015), price £4.95

Where Poets Dream'd: A guide to the Michael Bruce Way by David Munro, price £5
Ode to the Gowk and other Bishopshire Lilts: poems and songs by Michael Bruce and James Beath, Price £5 (including CD).